75 Years of Being Tough, Reliable, Built to Last.
West Salem Machinery builds their sawmill machinery products to be rugged and reliable, and the celebration of their 75th anniversary proves that the company, its leadership and team members are also tough and built to last.
Becoming a leader of grinding, screening, and processing equipment for the most demanding conditions around the world didn't come without some challenges.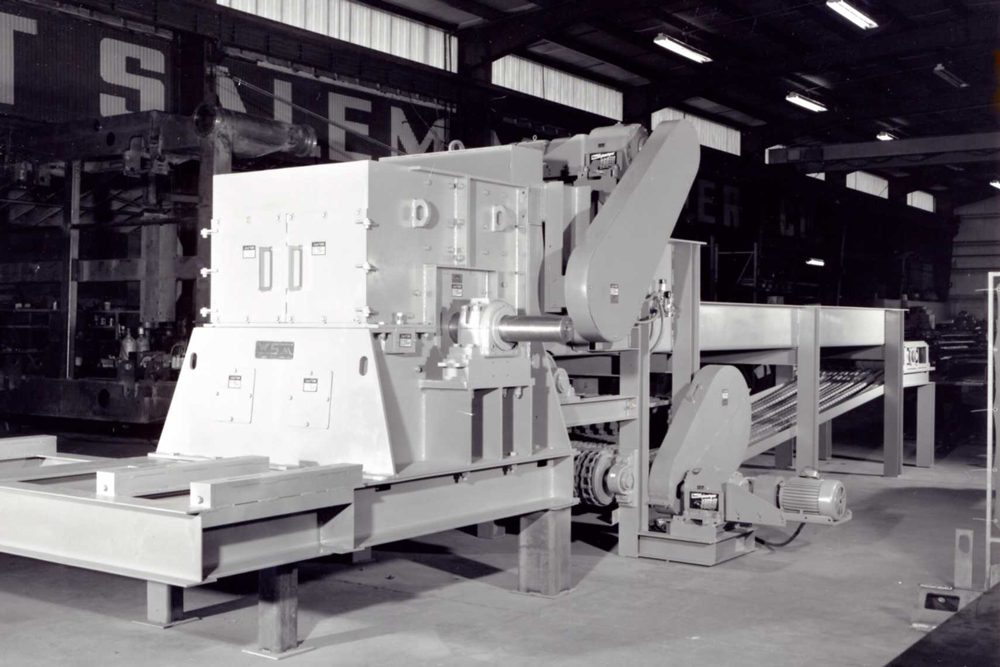 Here's a timeline of their struggles and triumphs. 
1910s: New Country, New Challenges
Carl Gerlinger, Sr., a machinist by trade, put his knowledge of steam power to work for railroads and logging operations. In 1908 when working in a roundhouse on a steam boiler, the boiler exploded leaving Carl gravely injured. His brother August was killed. Carl lost his left arm and spent a year recovering from the accident.
Gerlinger then turned his efforts to inventing, creating the oil distributor, oil retort and spark arrestors for locomotives. He became General Foreman of the Southern Pacific Railroad shops in Dallas, Oregon.
1920s: A Change of Direction
Gerlinger invested in Ed Biddlle's Dallas Iron Works and expanded their business into logging and railroad equipment.
1940s: Building a Legacy
Gerlinger invented the Gerlinger Carrier, a machine that could load and unload lumber, and formed the Gerlinger Carrier Company. He also created numerous other companies in the metal and manufacturing industry, including West Salem Machinery Company.
1960s-70s: Boom Times
In the early 1960s West Salem Machinery expanded their products to include wood chippers for the sawmill industry in the Pacific Northwest. For 20 years, West Salem continued to grow and provide chippers, vibrating conveyors, chip screens, disc screens and bark hogs.
Early 1980s: Bumps in the Road
The early 1980s were tough times for West Salem and the rest of the country, as interest rates jumped to 17 percent and crashed the housing market. With no new houses being built, the lumber industry ground to a near halt, and West Salem's new machinery sales to sawmills dropped to zero.
Late 1980s: The Road to Recovery
Mark Lyman, West Salem's current president and descendant of Carl Gerlinger, Sr., graduated from Oregon State University with a B.S. in Industrial Engineering and spent several years working for Siemens-Allison. He joined West Salem in 1984 in technical sales, sales management, and operations.
Mark's goal was to diversify West Salem's products and markets.
2000s: Continuing Evolution
Today, carriers are manufactured by Gerlinger Carrier, Inc. which is controlled by one of Carl Gerlinger's descendants and run by Mark Lyman.
West Salem Machinery continues to evolve, producing rugged and reliable grinding, screening, and conveying equipment as individual components or as the core of a customized, fully engineered package. With the most extensive product line available, they deliver customized and integrated solutions for a wide range of needs.
Today: Innovation and Expansion
Mark Lyman continues the tradition of "hands on" ownership and management, using his experience with all types of fiber processing to help make West Salem a leading manufacturer of Biomass and MSW processing equipment and systems.
Markets they currently supply include front-end feedstock preparation for biomass power plants (wood and agricultural fibers), MSW gasification and digestion feedstock prep/recycling systems, biofuels, pelletization, and densification.
Get Application Answers
Blog General Application Answers Form - No PDF
"*" indicates required fields