Improve your construction & demolition and green waste recycling operation with reduced downtime and increased productivity. Process large amounts of materials including C&D wood, urban wood, and pallets/pallet scrap with field proven grinding, shredding, and screening equipment and processing systems.
Green Waste Recycling Industry benefits
Reclaiming wood fiber and other recyclables is an ever evolving endeavor

Sustainable practices for environmental responsibility are required. 

Reliable and low maintenance machinery and processing systems are vital for plant success

Cost effective and efficient processing of material in the harshest conditions
The variety of materials that a C&D processing facility sees requires equipment that is low maintenance, rugged, and reliable.
You can count on WSM's decades of experience and proven track record of successful grinding and screening installations. Processing material including construction and demolition wood, C&D debris, urban wood, pallets/pallet scrap, wood fiber, railroad ties, land clearing debris, and mixed commercial waste. WSM's ongoing focus is to continue innovating processes and machinery/systems that add value to wood fiber for the green waste recycling and c&d industries. We are committed to delivering superior results to our customers.
We build more than just machinery. Building long term partnerships to help solve our customers problems is the basis for everything we do.
Our core equipment including Horizontal Grinders, Vertical Grinders, Shredders including the massive Super Shredder, Hammermills, Disc Scalping Screens, Oscillating Screens, Trommel Screens, Vibrating Screens/Conveyors, and Chain Metering Bins/Bulk Feeders. Listening to the unique challenges of the industry including potentially serious damage from large uncrushables like excavator track pins, we developed a new hammer system to help prevent rotor damage and optional infeed chute attachment for vertical grinders to capture large pieces of tramp metal.  
Construction & Demolition Industry Challenges
The ever increasing implementation of guidelines and regulations to reduce material going to landfills and increase reclamation of wood waste and other recyclables places new demands on the green waste recycling industry. One of the challenges can be setting up a reliable, environmentally responsible C&D recycling plant while helping to ensure a profitable, sustainable operation. The unpredictability, at times, of incoming material, requires durable, reliable processing equipment designed to meet these challenges.
The nature of the C&D recycling and green waste recycling business means you need to process C&D wood, C&D residuals, and land clearing debris. Expanded material sources could include railroad ties, green waste, mixed commercial waste, urban wood waste, and food waste. WSM's innovative approach starts with a thorough review of the material you currently deal with and future considerations of additional material. Your current plant layout and future plans help determine the scope and size of the equipment or system to help you meet your goals.  WSM's machine durability, proven design features, and construction deliver superior results to our customers.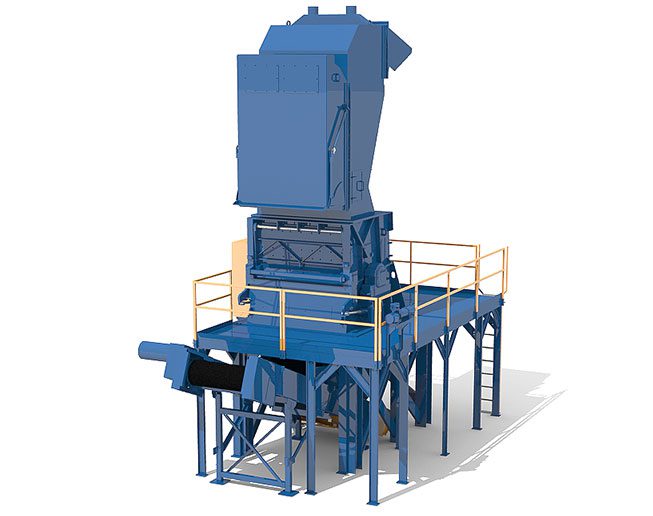 WSM Solution for green waste recycling
WSM has been supplying proven grinding and screening equipment and complete systems that deliver outstanding performance for over 70 years. Known for our innovative approach to solving our customers' problems, the challenges of C&D recycling and wood reclamation have presented another opportunity to serve our customers.  The increased likelihood of large tramp metal and other contaminants requires additional protections for the grinder to help reduce costly downtime and repairs. Get the durability and production you can rely on, plus superior service and support before, during, and after the installation.
WSM's vertical and horizontal grinders, re-grind hammermills, shredders, and a full line of screening equipment provides reliable, low maintenance operation to keep your facility running. Unique optional design features like a special hammer system and infeed chute ballistics attachment offer increased protection from large uncrushable. Two more examples of WSM developing solutions for our customers.
Speak to an Green waste recycling equipment Specialist