The Ultimate in Heavy Duty Trommel Screens
WSM Titan Trommel Screens provide precise classification of a wide range of material, with multiple classifications available from just one unit. WSM Trommel Screens are ideal for screening bark and compost materials for use as landscaping and soil amendment products.
WSM offers a wide range of sizes and capacities, custom-built one at a time and tailored to the needs of individual customers. Our screens are available in 4', 6', 8', and 10' drum diameters and lengths from 15' to 63' with production capacities of up to 600 cubic yards per hour. Built for heavy-duty applications, WSM Titan Trommels are designed to provide years of trouble-free separation.
GET INFO AND APPLICATION ANSWERS
WSM TITAN TROMMEL SCREENS REPRESENT AN EVOLUTION IN MANUFACTURING SKILL AND TECHNIQUE - REDEFINING THE INDUSTRY STANDARD FOR THIS MACHINE TYPE.
Proprietary WSM design and fabrication innovations enable the Titan Trommel to provide screening volumes unheard of elsewhere. 
Sizing Screen Flexibility
MODULAR PERFORATED PLATE AND / OR WIRE MESH SCREEN PANELS WITH 3/16" TO 4" OPENINGS
Multiple screen sizes available for multiple product separation points. Full covers allow access to multiple screen sections at one time to make periodic inspection simple and screen replacement faster.  Covers feature a sealing system. 
| MODEL | DRUM DIAMETER | DRUM LENGTH |
| --- | --- | --- |
| 412 | 4′ | 12′ |
| 420 | 4′ | 20' |
| 615 | 6′ | 15' |
| 620 | 6′ | 20' |
| 630 | 6′ | 30' |
| 820 | 8′ | 20' |
| 825 | 8′ | 25' |
| 830 | 8′ | 30' |
| 836 | 8′ | 36' |
| 845 | 8′ | 45' |
| 863 | 8′ | 63' |
WSM Titan Trommels are built one at a time and excel at processing material inclulding:
Asphalt Shingles
Bark
Compost
Food Waste
Glass
Mulch
Organics
Shredded Plastic
Topsoil
Wood Waste
Sand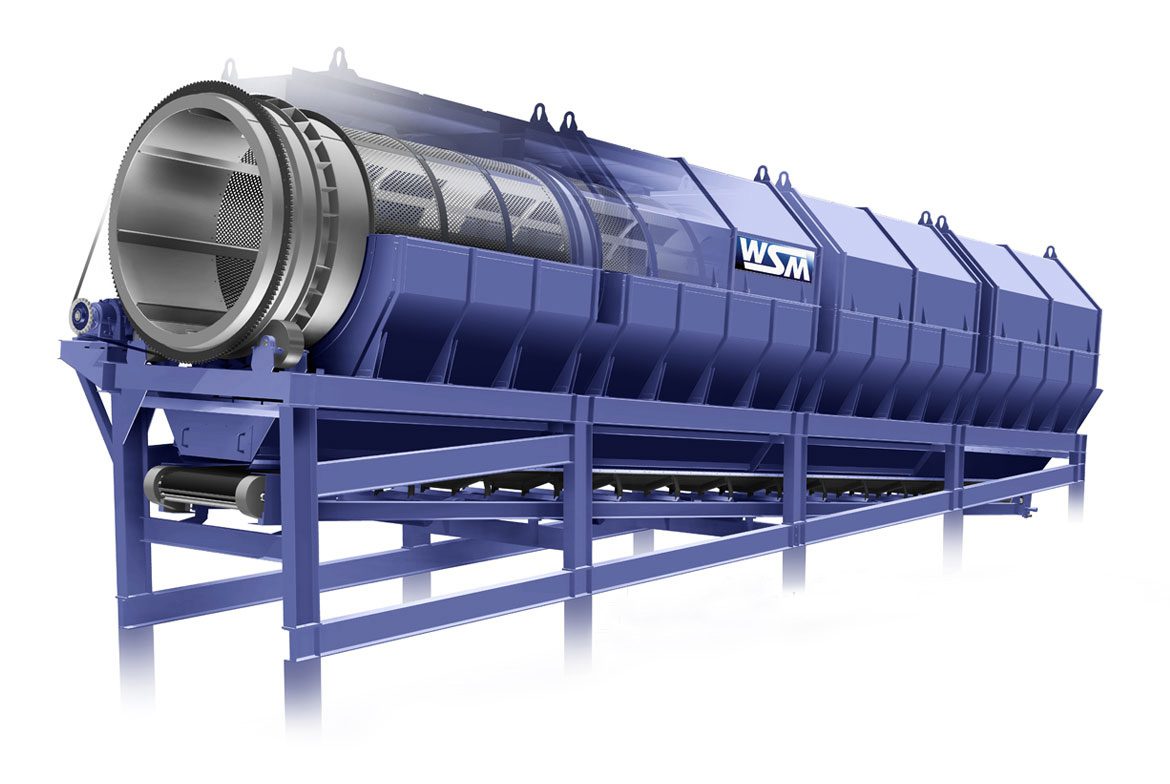 Heavy-duty segmented chain drive with shock absorbing base to minimize shock loads, noise, stress, and wear. Driven gear is removable for easy maintenance. 
Trommel barrel includes infeed diverter rings to minimize fugitive material escaping
Trommel covers allow easy access to screens for inspection and replacement
Modular interchangeable screen sections per customer requirements. Woven wire or plate options are available. 
Heavy-duty structure with integrated leveling system for simplified installation
Heavy-duty structural steel main frame designed with components to minimize material accumulation 
Optional discharge conveyors. WSM can supply multiple conveyors for corresponding separation sizes and associated supports. 
Another innovation in manufacturing
Hover Over Circles to See Features.
WSM Titan Trommel Screens represent an evolution in manufacturing skill and technique. Proprietary WSM design and fabrication innovations enable the Titan Trommel to provide screening volumes unheard of elsewhere. Titan Trommels are build one at a time, tailored to needs to individual customers for severe duty application. As a premier trommel screen manufacturer, we have the knowledge and experience to help solve your screening needs.
Nylon bristle screen cleaning brush assemblies are individually removable for quick service and minimal downtime (Not Shown)
Trunnion assemblies mounted to heavy-duty roller bearings for long life (Not Shown)
Low stress welded, structural tubing lifter assemblies (Not Shown)
Optional infeed and discharge chutes (Not Shown) 
Optional Access Platforms for access to trommel for maintenance (Not Shown)
Discover the WSM Difference
Our line of WSM Trommel Screens provides the exact classification of a comprehensive range of materials and offers exceptional screening for bark and compost materials your business can use in landscaping and soil amendment products.
Download Our PDF
To discover what the full range of WSM Trommel Screens can mean for your business simply complete the contact form to receive your Free PDF. A member of our team will also contact you after a couple of days to answer any questions.
GET A FREE PDF & YOUR QUESTIONS ANSWERED