Maximize finished fiber value while reducing operating costs with WSM's rugged and reliable wood waste equipment - Vertical and Horizontal Wood and Bark Hogs, Trommel Screens, Mulch Thickness Screens, Bale Breakers and Fluffers, and Coir Breakers
Produce large volumes of mulch with WSM's Bark and Mulch Grinders - lower expenses and increase production

Maximize fiber value with highly efficient and effective Titan Trommel Screens and Mulch Thickness Screens

Increase peat moss recovery and reduce handling by deconstructing compressed bales with WSM's Bale Breaker

Deconstruct pallet loads of coir blocks, producing flowable material - ready for use - with WSM's Coir Breakers

Such a diverse industry means a large variety of feedstock may need to be processed. Bark, wood chips, grass clippings, wood debris, yard debris, mulch, sawdust, coir, and peat moss - just to name a few.
You need equipment designed to process your specific incoming material and produce the finished product to your specifications. Count on WSM's industry experience and the complete line of mulch and bark screeners, Mulch Grinders, Bark Grinders, Peat Moss Bale Breakers, Coir Breakers and complete bark processing systems to help you produce the finished product your business needs.
Be confident that you are getting the right machine to process your material with the most complete line of equipment available.
Dedicated, experienced staff can help you configure the machine or complete processing system including metal removal, conveyors, and maintenance access platforms. There is no one machine that is right for every job. Tell us about your unique application and we'll configure a machine or system for your operation. WSM offers Horizontal Hogs/Grinders, Vertical Hogs/Grinders, Shredders including our massive Super Shredder, Hammermills, Disc Scalping Screens, Oscillating Screens, Trommel Screens, Vibrating Screens/Conveyor, Chain Metering Bins/Bulk Feeders, Coir Breakers and Fluffers, and Peat Moss Bale Breakers.
Industry Challenges
Lowering the "per ton" processing costs associated with wood waste equipment starts with reduced handling, labor, and energy requirements. Lower maintenance costs and increased up-time play a vital role in increasing productivity and further lowering costs. A consistently sized end product that meets your unique specifications is necessary to maximize finished product value.  To satisfy these requirements, the most rugged, reliable machinery is required.
The ability to remove plastic contaminants from the soil for compost. Producing consistently sized products for mulch and screening options to further maximize fiber value. Deconstructing compressed peat moss bales and increasing recovery. Deconstructing and hydrating coir blocks. These are a few examples of the innovative solutions WSM has provided to the industry with our wood waste processing equipment. From low volume producers to the highest capacity requirements, we are here to help. WSM's partnership approach will ensure you get the right Grinder, Screen, Bale Breaker, or fully integrated system to get the job done.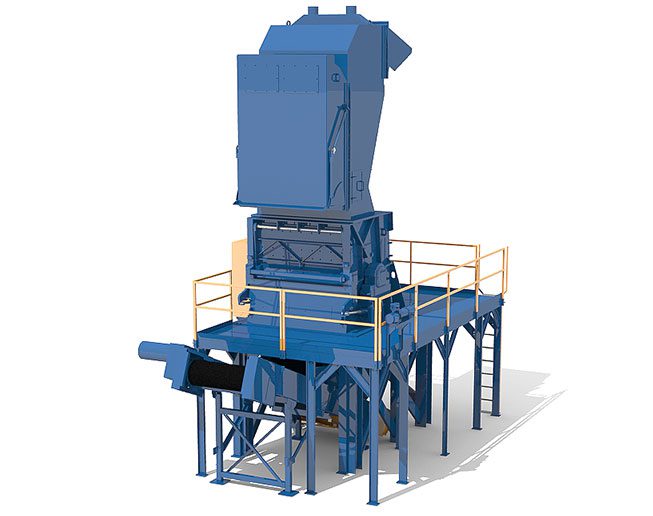 WSM Solution
Working with industry-leading producers for decades, we understand mulch and soil processing needs to be reliable, less labor-intensive, and more profitable. Take our revolutionary stationary electric high-capacity mulch processing system. This fully integrated system is fast and efficient, delivering unrivaled results in the most demanding applications. Lowering your "per ton" processing cost by reducing handling, labor, and energy requirements. Load the Chain Metering Bin and let the system go to work! The massive Titan Trommel Screen or Mulch Thickness Screen separate acceptably sized mulch from overs. Maximize fiber value with Titan Horizontal or Vertical Grinders. System integration, project management, and start-up assistance are available.
Soil prep is easier with our revolutionary Peat Moss Bale Breaker and Fluffer, as well as enhanced Coir Breaker. The Peat Moss Bale Breaker effectively deconstructs compressed bales to increase recovery. The Fluffer further breaks up the peat, fluffing it prior to hydration. The Coir Breaker deconstructs and processes compressed coir blocks - pallet loads at a time - and hydrates - all in one operation
SPEAK TO AN APPLICATION EXPERT