Powerful and Reliable High Volume Fiber Processing
Bigger
Eliminate the need for multiple size reduction machines, WSM's Super Shredder is a single shredding/milling machine for the highest volume applications

Unique hybrid machine combines the efficiency of a high-speed mill with the durability of a heavy-duty grinder/mill

Massive 48 inch diameter rotor and up to 88 inch rotor length
Faster
Maximum performance thanks to high tip speed, increased screen area, and aggressive milling action

Process high volumes of pre-processed material to a consistently sized fiber for pellet production, biomass power, co-firing, mulch/bedding and numerous other value-added products

Drive sized typically range from 400-1000 HP
Stronger
Reduce maintenance and operating costs with dual pivoting hydraulic housing for easy internal access

Extra thick,replaceable interior wear liners and modular sizing screens

Built for use in 24/7 operations and proven in mill-duty applications
GET INFO AND APPLICATION ANSWERS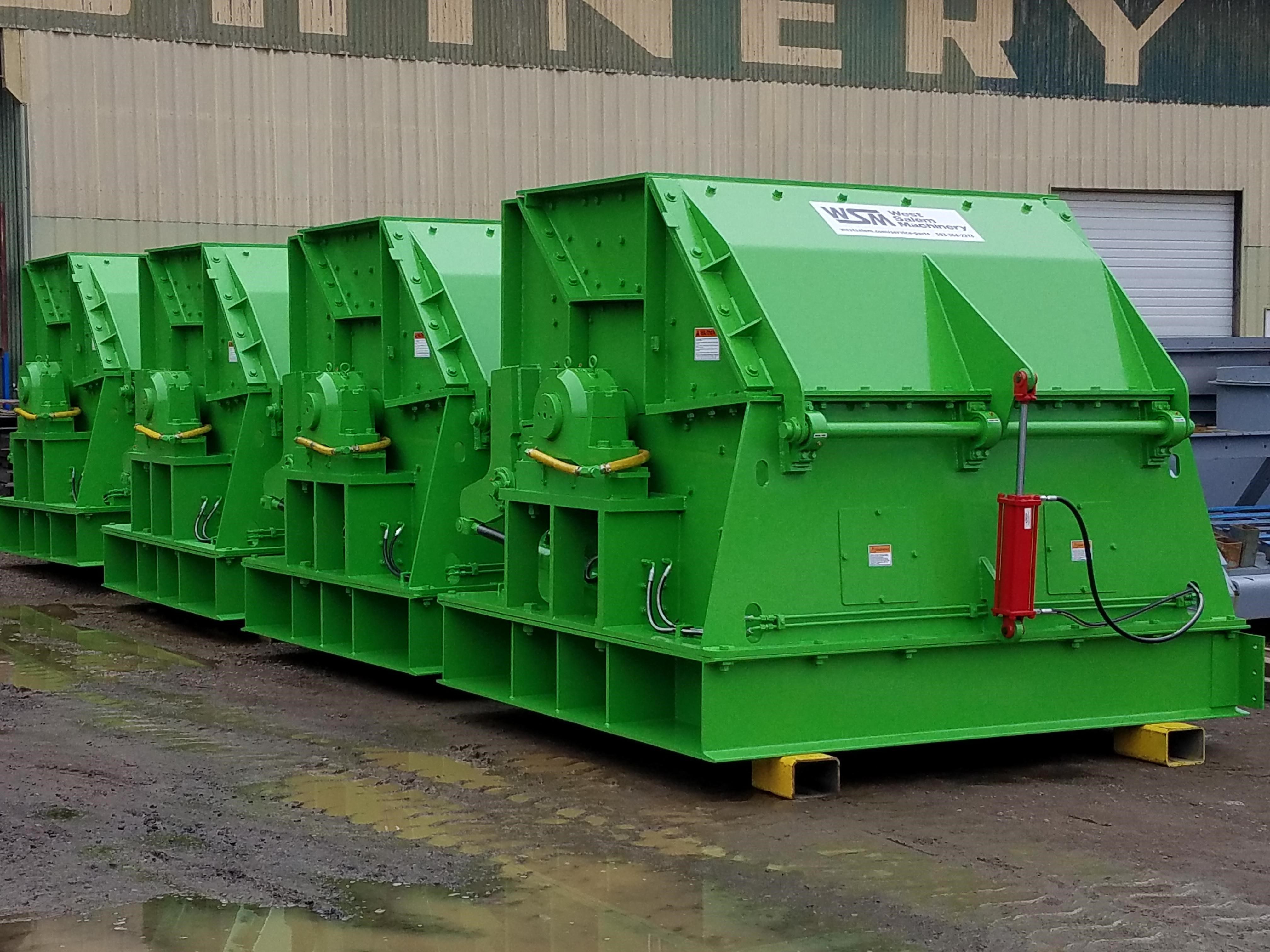 DECADES OF FIELD EXPERIENCE HAVE GONE INTO THE DESIGN OF MAINTENANCE ON OUR INDUSTRIAL SHREDDER FEATURES THAT MAKE UPKEEP EASIER AND SAFER.
- Rotate hammer tips to expose an unused face. Hammer tips are easily replaced in the field with an impact wrench or change to another tip style to accommodate different materials.
- Reversible alloy steel anvil offers extended life and easy replacement when necessary.
- Easy to access modular screens that are replaceable with a variety of WSM screen sizes to adapt quickly to a different material.
- Remove or service bearings with rotor in-place thanks to WSM's removable bearing support blocks.
- Heavy-duty Modular Wear Liners are rotatable and interchangeable for even wear.
Complete Integrated Systems
THE HEART OF PROCESSING SYSTEMS WORLDWIDE

- Complete systems can include metering bins, maintenance access platforms, and discharge conveyors
- Configurable as gravity discharge, air assist, or full gravity discharge
- Process high volume of consistently sized fiber for pellet production, biomass power, co-firing, mulch/bedding, and other value-added products
Super Shredder- 48 Series
| MODEL | FEED OPENING | L | W | H | ROTOR DIA TIP-TIP | ROTOR W | TYPICAL HP RNG |
| --- | --- | --- | --- | --- | --- | --- | --- |
| 4860S | 42-1/2 - 66-1/4 | 119-7/8 | 93-3/16 | 73 | 48 | 60 | 400-500 |
| 4874S | 28 - 73-5/8 | 121-1/8 | 105-1/16 | 73 | 48 | 74 | 500-600 |
| 4888S | 28 - 88 | 135 | 105-1/8 | 73 | 48 | 88 | 500-600 |
WSM Shredders provide simple,
energy-efficient size reduction
Ag Residuals
Bagasse
Bark
Biofuel
Biomass feedstock
Chips
Corn stover
Energy crops
Grass straw
Hogged Wood
in-Woods chips
Micro chips
Particleboard furnish
Pellet feedstock
Pre-hogged wood
Pulp chips
Sawdust
Shavings
Sorghum
Wheat straw
Wood chips
Wide mouth opening for improved infeed.
Heavy-duty fabricated steel housing for superior strength. Extra thick replaceable interior steel wear liners provide extended machine life.
Hinged breaker plate door with shear pin and limit switch to help protect machine from large uncrushables. 
Reversible alloy steel anvil is heat-treated for superior wear life. 
Removable bearing support blocks allow for bearing service without rotor removal. 
Heavy-duty double row spherical roller bearings and cast pillow block bearing housing provides superior bearing life. 
Modular screens are easily accessible. Multiple screen options available. Increased screen area for more through-put. 
Rotor shaft end is drilled and rifled on each end, permitting hydraulic bearing removal. 
Pivoting front and rear case for easy internal access, reducing maintenance and operating costs. 
Rotor constructed with heavy-duty machine shaft, rotor discs and alloy steel hammer pins. 
Massive 48 inch (1220 mm) diameter rotor and up to 88 inch (2235 mm) rotor length. 
Available with 4-8 rows of allow steel rectangular hammers with optional replaceable tips 
Sensible Maintenance and Improved Adaptability
With the Super Shredder, users can easily change hammer tips and screens to adapt to a variety of different applications.
Multiple hammer options can be used to optimize performance.
Change perforated screens to suit changing applications with options from 3/64" to 3" diameter.
Optional plenum flange in the base allows for connection to air discharge or air-assist system.
Hover over circles to see features of the Vertical Grinder.
Additional Info
For industries looking for a high volume, dependable shredder that combines the unparalleled efficiency of a high-speed hammermill with the increased durability of an industrial-duty grinder, WSM's Super Shredder delivers.
Connect with an Expert
To discover the full range of options that come with our WSM Super Shredder, complete the contact form to receive your Free Product PDF. Questions? A member of our support staff will contact you to provide answers.