Full range of sizes and configurations available with processing capacities up to 600 tons per hour
WSM's Waterfall Disc Screens offer an efficient and cost effective solution for any high volume screening application. These Screens operate by feeding material from an infeed device to the slope sheet. Smaller material, such as sawdust, fall down through narrow openings in the disc, while larger materials like chips, bark and hogged wood continue to move to the end of the screen and fed to a grinder, hog, hammermill, re-chipper, bunker or reject conveyor.
We offer a comprehensive range of sizes and configurations with available processing capacities of up to 600 tons per hour. Customized sizes available to handle specific applications. Contact us for details.
Efficient and Cost Effective
WSM'S DISC SCREENS ARE AN EFFICIENT AND COST EFFECTIVE CHOICE FOR HIGH VOLUME, COARSE SCREENING APPLICATIONS.
WSM's disc screens are an efficient and cost effective choice for high volume, coarse screening applications. From hog fuel to wood chips, bark to board finish, urban wood to recycling materials. These units deliver field proven performance and reliable, low maintenance operation in the most demanding conditions, providing superior value in screening technology.
KEEPING YOUR DISC SCREEN IN TOP SHAPE IS STRAIGHTFORWARD THANKS TO SOME THOUGHTFUL DESIGN FEATURES LIKE:
The centrally located lubrication station, making it easy to service; the rotor design is self-cleaning and low-maintenance; and the modular side panels allow for quick maintenance access. Low speed, smooth operation eliminates the need for special support structures, and the space saving design reduces installation cost.
| STANDARD WIDTH | STANDARD LENGTH |
| --- | --- |
| 18″, 24″, 30″, 36″, 48″, 60″, 66″, 72″, 84″, 96″, 120″ | 4 to 24 rotors assemblies |
Bark
Biomass Feedstock
C&D Debris
Compost
Hog Fuel
Plastics
Sawdust/Shavings
Shredded Tires
Urban Wood
Wood Chips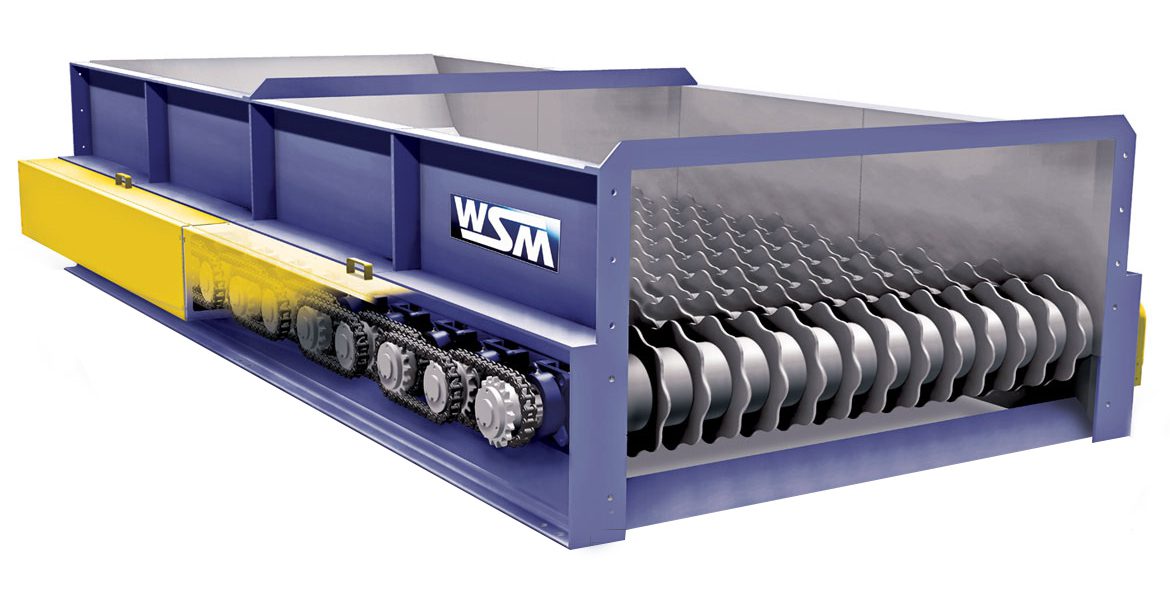 Sloped Infeed Chute initiates material orientation onto the rotor assemblies
Modular side sheets for quick and easy maintenance access
Adjustable disc spacing allows the ability to adapt to application changes
Multiple disc profiles available based on material characteristics for improved efficiency and reduced maintenance
Positive chain drive system
Full Range of Sizes
WSM's Disc Screen joins the West Salem family of fiber preparation machinery, including our full complement of screens and grinders that will meet the needs of any application.
Our versatile screens come available in a variety of sizes, with screen widths from 18" to 120" and up to 24 rotors long. Processing Capacities of up to 600 tons per hour.
Discover the WSM Difference
If you need an efficient and cost effective solution for your screening applications, discover the difference that West Salem's line of Waterfall Disc Screens can make. 
Want to Know More?
To receive your Free Copy of our Waterfall Disc Screens PDF, simply complete the contact form, and a member of our sales team will follow up. 
Whether you are in the Biomass / Recycling / Green Waste / Wood / Agricultural or other processing industry, West Salem provides the type of innovation our customers thrive on.
GET A FREE PDF & YOUR QUESTIONS ANSWERED