Full Range of Sizes & Configurations
with Capacities Up to 600 Tons Per Hour
Highly efficient and cost-effective for high volume coarse screening applications 

Increase throughput and reduce Grinder maintenance by removing overs, chunks, splinters, and trash

Low speed, smooth operation eliminates the need for special support structures or foundations 

Agitation action of discs improves screening efficiency 

Modular side sheets allow for quick and easy maintenance access 

Central lubrication station makes it easy to service 

Solid through, large diameter shaft assemblies contribute to a long operating life
GET INFO & APPLICATION ANSWERS
WSM's Unique Mulch Thickness Screen
A great new tool for high volume mulch screening!

Delivering consistently sized finished mulch by rejecting over-thick and chunky materials from your mulch product thanks to tight spacing between the discs

Can be configured with our unique waterfall arrangement to help agitate and turn material, further increasing screening efficiency

WSM'S DISC SCREENS ARE AN EFFICIENT AND COST EFFECTIVE CHOICE FOR HIGH VOLUME, COARSE SCREENING APPLICATIONS.
- WSM Disc Screens operate by accepting material from an infeed device
- As material slides down the chute, smaller material ("fines") fall through the disc openings
- Later material ("overs") is transported to the end of the screen and transported to the end of the screen
- "Overs" can be discharged into a Grinder, Hog, Hammermill, No-Knife Re-Sizer, or reject conveyor
MAINTAINING YOUR DISC SCREEN IS STRAIGHTFORWARD THANKS TO SOME THOUGHTFUL DESIGN FEATURES LIKE:
- Centrally located lubrication station 
- Rotor design is self-cleaning and low maintenance
- Modular side panels allow for quick maintenance access
- Four bolt, self-aligning flange bearings
CUSTOM SIZES AVAILABLE TO HANDLE SPECIFIC APPLICATIONS. CONTACT US WITH YOUR APPLICATION DETAILS.
| STANDARD WIDTH | STANDARD LENGTH |
| --- | --- |
| 18″, 24″, 30″, 36″, 48″, 60″, 66″, 72″, 84″, 96″, 120″ | 4 to 24 rotors assemblies |
Bark
Biomass Feedstock
C&D Debris
Compost
Hog Fuel
Mulch
Paper/OCC
Plastics
RDF
Sawdust/Shavings
Shredded Tires
Slabwood
Urban Wood
Wood Chips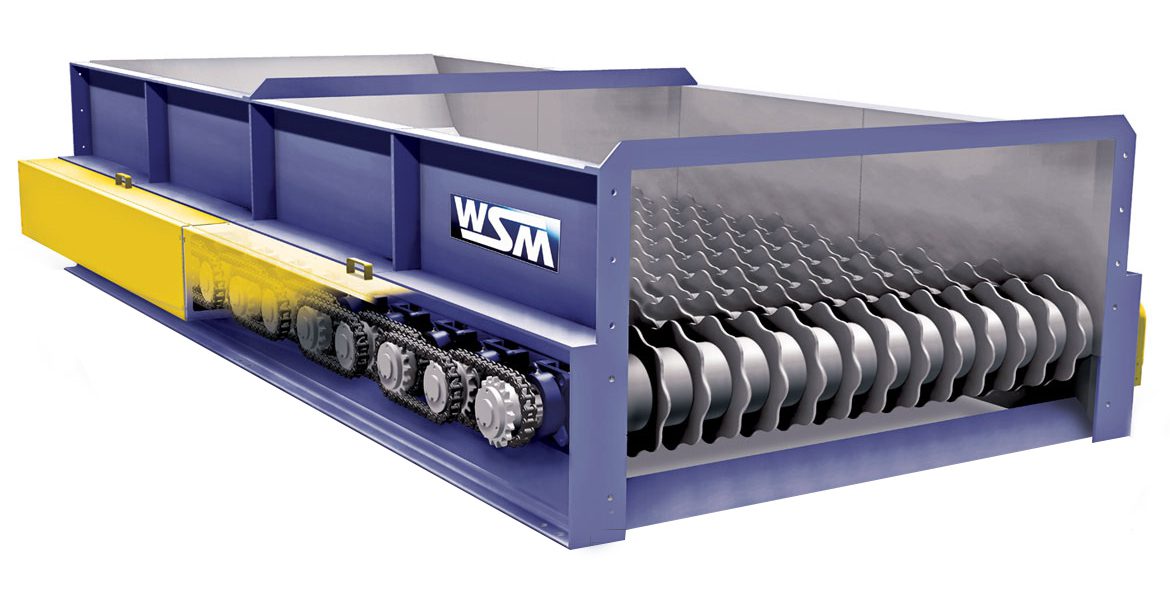 Sloped Infeed Chute initiates material orientation onto the rotor assemblies
Modular side sheets for quick and easy maintenance access
Adjustable disc spacing allows the ability to adapt to application changes
Multiple disc profiles available based on material characteristics for improved efficiency and reduced maintenance
Positive chain drive system
Standard & Optional Features
Disc Profile: Various disc profiles are available to meet specific application needs
Orientation Rolls provide tight disc spacing on initial rotors to transition infeed material on to the main screen area
Anti-jam Control: Detects jam up though current sensing on drive motor. Provides controls to reverse and clear the jam automatically
Motion Switch: Detects motion and zero speed conditions
Top Covers: Provides enclosure over to of screen for dust control and safety purposes
Discover the WSM Difference
WSM's Disc Screens are an efficient and cost-effective choice for high volume, coarse screening applications. From hog fuel to wood chips, bark to board furnish, urban wood to RDF (refuse derived fuel). These units deliver field-proven performance and reliable, low maintenance operation in the most demanding conditions to provide superior in screening technology.
Want to Know More?
To receive information on our Disc Screens, complete the contact form and a member of our team will follow up with you. 
Whether you are in the Biomass / Recycling / Green Waste / Wood Products / Mulch or other industry, West Salem provides the proven machinery and industry experience that our customers count on.
GET INFO & APPLICATION ANSWERS