Recycle urban wood waste materials into marketable fiber, including biomass feedstock and animal bedding, with proven system performance, with our wood grinders and wood hogs and screens, and years of experience you can count on.
Industry Specific information
Reliably reduce landfill tipping fees and recycle urban wood into marketable fiber - Turn Waste to Profit

Environmentally friendly recycling solutions

Repurpose wood waste into biomass feedstock, compost, bulking agent, and so much more

Recycling urban wood is an effective way to conserve natural resources
With the diverse sources of urban wood, versatile, dependable machines are required for a successful processing operation.
Count on WSM's decades of experience in configuring machines and processing systems to excel in this challenging setting. Our Wood Hogs, Wood Grinders, Screens, and Complete Systems to successfully convert material including construction and demolition wood, pallets, crates, trim ends, sawn lumber, used lumber, branches, stumps, and land clearing debris into marketable wood fiber. WSM has the proven equipment and experience to supply heavy-duty equipment with reliable long-term operation to your facility for simplified industrial wood waste recycling.
Discover how you can put WSM's experience and commitment to supplying the most rugged and reliable wood waste grinding and screening equipment to work in your operation.
WSM's complete line includes Horizontal Hogs/Grinder, Vertical Hogs/Grinders, Shredders including our game changing Super Shredder, Hammermills, Disc Scalping Screens, Oscillating Screens, Trommel Screens, Vibrating Screens/Conveyors, and Chain Metering Bins/Bulk Feeders. This mill-duty equipment combined with our experienced and dedicated engineering and manufacturing teams mean you can move forward confidently knowing your getting the best for your operation.
Urban Wood Recycling Industry Challenges
The continuing efforts to minimize the amount of material being introduced to landfills and to recycle recovered material have put urban wood waste as a key contributor toward this goal. Urban wood waste can include scrap wood from construction and demolition, land clearing debris, pallets and crates, sawn lumber, branches, stumps, used lumber, and trim ends. To successfully process the variety of urban wood into a revenue-generating product can be challenging for the inexperienced. We offer a variety of wood waste processing equipment.
In addition to reducing landfill tipping fees by recycling, urban wood can be processed into marketable fiber to create a new revenue stream.  Value added end products can include animal bedding, boiler fuel, biomass feedstock, compost bulking agent, landscape mulch, feedstock for engineered wood, pulp wood fiber, and soil amendment. WSM's ability to tailor a system to your requirements eliminates guess work on your part. We can supply individual grinders, screens, and other components to integrate into your facility or customize a complete processing system.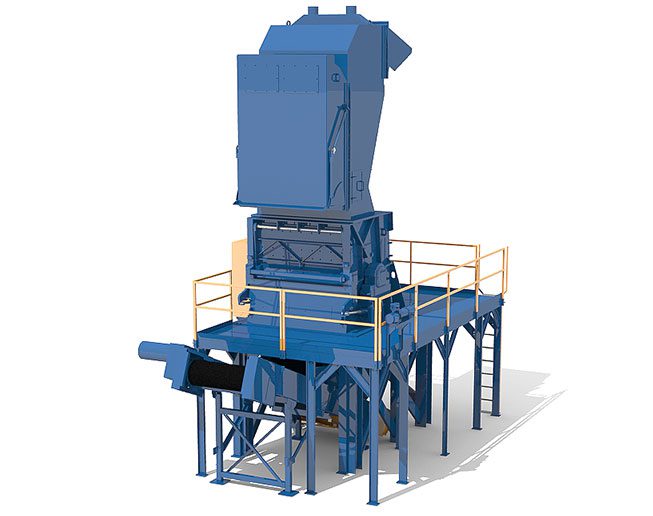 WSM Solution
WSM urban wood processing systems lead the industry in recycling wood waste materials into marketable wood fiber products. A typical system can include a chain metering bin for batch loading and metering of material downstream, grinding/shredding, secondary grinding, and screening to further maximize fiber value and your ROI. We can supply all conveyors, chutes, picking stations, walkways, platforms, and multi-stage metal removal. All of this in one fully engineered, integrated package so you only talk to one supplier. 
WSM's horizontal and vertical hogs/grinders, shredders, fine grind hammermills, trommel screens, oscillating screens, vibrating screens/conveyors, and disc scalping screens deliver reliable operation in the harsh environment. Providing lower maintenance operation and lower operating costs while maximizing up-time and production. Individual components or full systems - you always get WSM's exceptional service and support - before, during, and after installation.
Additional Info
If you need to find a way to recycle urban wood waste materials into marketable fiber, including biomass feedstock and animal bedding. WSM's line of environmentally friendly solutions can provide the right answer for what you require.
Contact WSM
To discover what urban wood recycling can mean for your business, complete the contact form to receive a Free PDF. A member of our Recycling team will contact you shortly.