WSM's Hopper Fed Grinder Offers a Complete Grinding System Perfect for a Wide Range of Operations
Specifically designed for industrial users, WSM's rugged hopper-fed grinders deliver the performance that makes your job faster and easier. From "dump and go" batch feeding to automatic unmanned operation, WSM Hopper Fed Grinders deliver unmatched performance that quickly pays for itself.
Combined with automatic controls, WSM's grinder delivers an unmatched combination of easy installation and operation. WSM has combined low maintenance with effective material processing. WSM's Hopper Fed Grinders operate at a low noise level and at a lower horsepower and include a UL-listed electrical control unit with motor starters, pushbuttons, and PLC logic control.
GET INFO AND APPLICATION ANSWERS
Easy Installation - Less Maintenance

MINIMAL FOUNDATION REQUIRED, AND ALL THE ELECTRICAL CONTROLS AND MOTOR STARTERS ARE PRE-WIRED IN A SINGLE ENCLOSURE, FACTORY TESTED, AND SUITABLE FOR INDOOR OR OUTDOOR INSTALLATION.
Superior design and rugged, mill-duty construction make this the toughest and heaviest grinder on the market. Easy access and reversible/replaceable wear components keep maintenance to a minimum. 

WSM'S RUGGED SHREDDER DELIVERS PERFORMANCE THAT MAKES YOUR JOB FASTER AND EASIER.
From "dump'n'go" batch feeding - to automatic, unmanned operation - to easy installation and maintenance - to the extra heavy design and construction - WSM's high torque grinders ensure a successful and productive installation.
| MODEL | Hopper Dims | L | W | H | ROTOR DIA TIP-TIP | ROTOR W | TYPICAL HP RNG | WT |
| --- | --- | --- | --- | --- | --- | --- | --- | --- |
| 1636HT | 51-7/8 X 105-1/2 | 128-7/16 | 86-23/32 | 119-1/2 | 12-1/2 | 37-1/4 | 40-50 | 9,693 |
| 1662HT | 77-3/16 X 80-3/16 | 184-3/4 | 117-7/8 | 119-1/8 | 12-1/2 | 61-3/4 | 60-75 | 15,291 |
WSM's Hopper Fed Grinder provide simple operation and easy installation.
Pallets/Pallet Scrap
Crating & Packaging Waste
Construction Wood Waste
Industrial Wood Waste
Plastic
Plywood & Panel Scrap
Product Destruction
Trim Ends & Edgings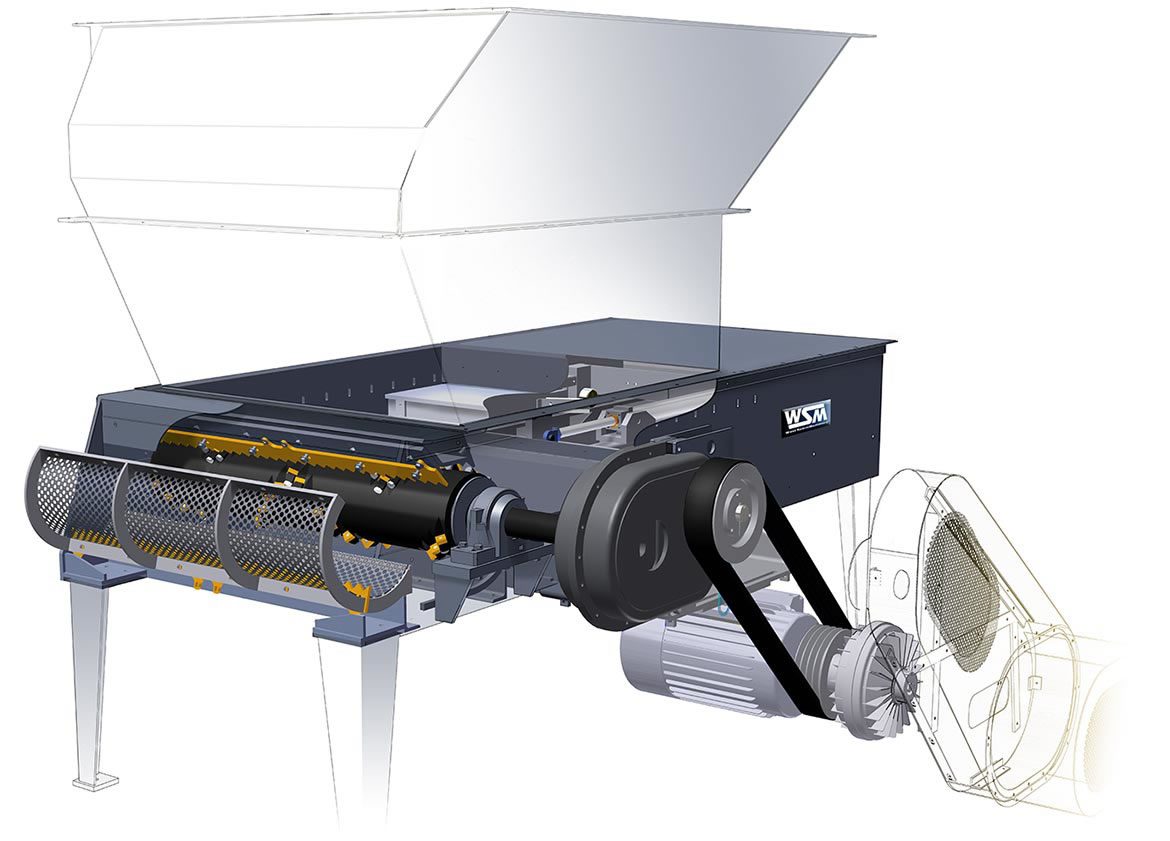 Massive welded steel frame- the heaviest in the industry - provides superior stability and long machine life
Large diameter, precision machined steel shaft is sized to handle heavy shock loads and provide high torque cutting action 
Heavy duty steel ram provides positive feed to the grinder rotor 
Single large diameter hydraulic cylinder with UHMW guides and universal trunnion mount for improved ram operation compared to dual cylinders
3/4" thick machined T-1 steel floor for long wear life
Spring-loaded wiper on face of ram for clean sweep of ram floor
Low horsepower drive and slow speed, high torque cutting action deliver low cost operation with low maintenance 
Over-sized gear box delivers high torque cutting action
Sizing screen is modular for ease of handling. Screens available with 3/8"-4" diameter perforated plate. Heavy-duty screens provide extended wear life. 
Kevlar® reinforced banded belts provide superior horsepower transmission 
Heavy-duty grinder rotor is precision machined with staggered cutter arrangement for more efficient grinding action 
WSM exclusive multi-cut anvil system provides more shredding action and superior product sizing 
Heavy duty SKF double row spherical roller bearings mounted in pillow block housings provide superior shock loading and long wear life
Modular and interchangeable front anvil provides tight tolerance shredding action
Configure Your Hopper Fed Grinder to Maximize Production
Our modular sizing screens, with a full range of perforation sizes and optional baffles, help you customize your grinder to produce any desired finished product.
Index cutters provide multiple wear surfaces for extended life and improved performance. Let us know what you're grinding and your desired finished product, and we'll work together to configure your grinder to achieve maximum productivity.
Discover the WSM Difference
Our West Salem Hopper Fed Low RPM Grinders were designed for industrial users who required a rugged, hopper-fed delivery system that offers improved functionality and performance.
Discover More
To find out just how big a difference our West Salem Hopper Fed Low RPM Grinders can make for your business, just fill out the contact form to receive your Free Line Sheet PDF. To make sure you receive the answers you require, a member of our Grinder team will contact you shortly to answer any questions.
GET A FREE PDF & YOUR QUESTIONS ANSWERED