WSM's Hammermills Offer Exceptional Fine Grind Performance
WSM's rugged hammermill machinery combines superior fine grind processing performance with reduced maintenance costs.
From wood fiber and bark, to ag fiber and feed products, WSM's high-volume hammermill machinery delivers superior processing performance with high-capacity uniform particle sizing. The rugged design and construction of WSM's hammermill provides reliable operation, low maintenance, and long machine life.
Our rugged Hammermill equipment comes in a range of styles, sizes and capacities to meet any challenge. Large diameter hammer circle and throat widths range from 20" to 60" enable processing capacities to range from 1 to 100 tons per hour. Custom control features are also available, including motor starters/controls, auto reversing, and load sensing feed control.
GET INFO & APPLICATION ANSWERS

WSM HAMMERMILLS FEATURE A LARGE DIAMETER HAMMER CIRCLE AND THROAT WIDTHS FROM 20" TO 60".
Rotor operation at 1800 rpm provides high tip speed milling action for superior product sizing. The near full circle sizing screens maximize production in fine-grind applications, delivering higher capacities and consistent product sizing.
FROM WOOD FIBER, TO BARK, TO AG FIBER AND FEED PRODUCTS - WSM'S HAMMERMILLS DELIVER SUPERIOR PROCESSING PERFORMANCE.
With high capacity, uniform particle sizing, and the rugged design and construction that are the hallmark of all WSM production.  Providing reliable operation, low maintenance, and a long machine life.
SEVERE DUTY HYBRID HAMMERMILL/GRINDER DESIGNED FOR EFFECTIVE REDUCTION OF A WIDE RANGE OF MATERIAL.
Heavy duty rotor, large bearings, and thick internal wear liners enable the reduction of larger pieces of wood when compared to conventional hammermills.
This enables our hammermill to better withstand the damage caused by tramp materials.
Uses and materials processed include: citrus rinds for animal feed, pre-dryer pellet furnish, chip overs, pre-hogged wood for use as pulp wood, green chips, planer shaving, landscape material, and biomass feedstock
Super Shredder- 48 Series
WSM Hammermills provide simple, energy-efficient size reduction
Ag Fiber (Straw/Stover)
Animal Feed
Bark
Citrus Peel
Pre-hogged Wood
Sawdust/Shavings
Wood Chips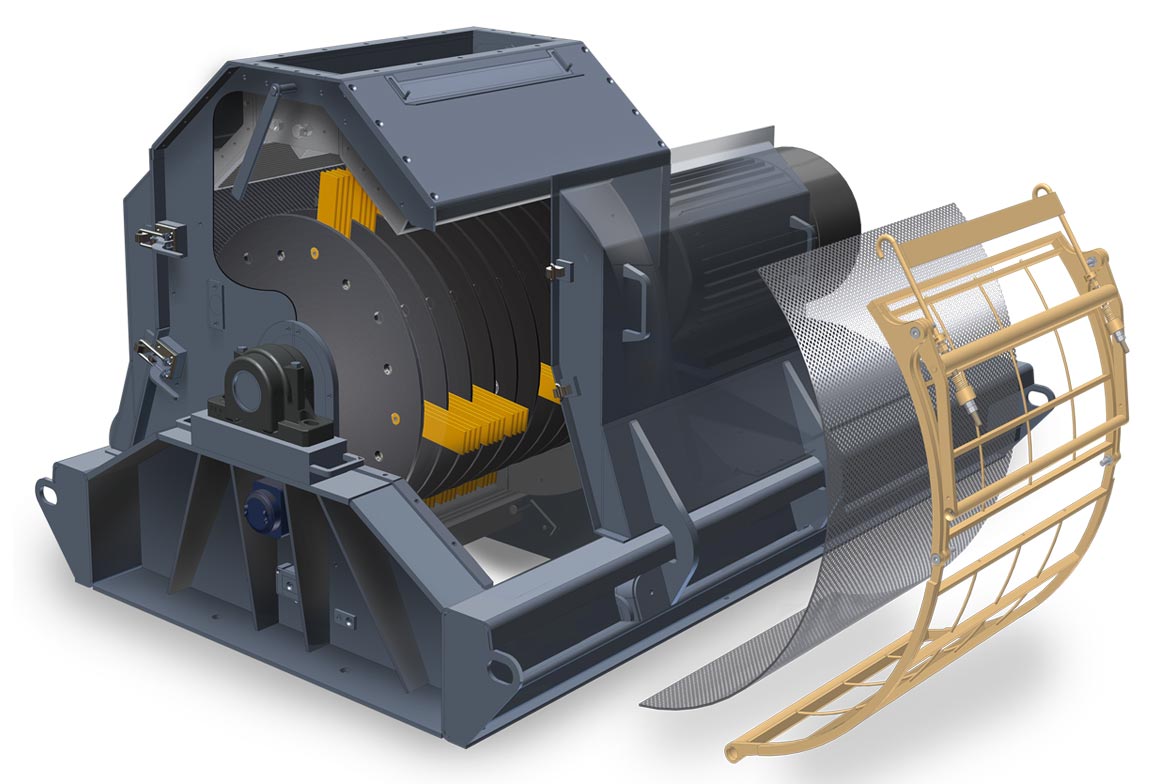 Wide mouth inlet opening for improved infeed
Adjustable air inlets allow balancing of air pulled through the mill
Heavy duty fabricated steel housing with ⅜" thick frame and doors for superior strength and wear life
Dual Hammermill inlet refiner plates provide multiple cutting surfaces for superior milling action. Refiner plates are removable and reversible.
Bi-directional infeed with optional air actuated diverter
Dynamically balanced rotor insures smooth machine operation and long bearing life
Heavy-duty rotor design with large diameter 4140 alloy steel shaft and precision manufactured rotor discs
Adjustable clearance between hammers and screens with two position hammer pins. Hammer pins are 4140 alloy steel for high strength and long wear life. 
Multiple hammer options are available including ¼", ⅜", and ½" thickness. Standard hammer is rectangular AR steel with tungsten carbide wear surfacing.
Lower refiner segment provides additional milling action. WSM's three stage refiner plates deliver superior product sizing. All refiner segments are reversible and replaceable. 
Flared door and wide base design allow improved discharge of materials from the grinding chamber
Heavy-duty double row spherical roller bearings and cast steel pillow block bearing housings provide superior bearing life
Removable bearing support blocks allow for bearing removal without lifting rotor assembly
Vibration switch and door interlocks are standard features for machine protection and operator safety
Easy-glide dual access doors with over-center stop provides quick and easy access for maintenance
Extra-heavy interior AR steel wear liners for extended machine life 
Multiple screen options available with perforated screens from 3/64" dia. to 3" dia. Bi-directional screens allow screen rotation for extended wear life. Wide mills feature split-screen design for ease of handling. 
Screen carriage features over-center spring loaded locking mechanism with built-in retainer. Provides fast and secure clamping of screen sections.  
Built to last Sized to meet your needs, Customize to fit
WSM offers various rotor configurations, screen sizes and types, hammer styles, and discharge options to configure your grinder.
Hover over circles to see features of the Hammermill.
Discover the WSM Difference
Whether you need to process bark and wood fiber or feed products, West Salem's line of high volume hammermill machinery will provide the exceptional and consistent particle sizing and low maintenance requirements your business needs.
Contact Us
To discover what West Salem's line of hammermills can mean for your business, simply complete our contact form to receive a Free PDF. A member our team will then contact you to answer any questions about how our systems can improve your bottom line.
GET A FREE PDF & YOUR QUESTIONS ANSWERED