Sized to fit your capacity requirements
These rugged conveyors and screens move high volumes of material with low horsepower requirements, leveling and orienting material as it is conveyed, reducing surges to downstream equipment.
WSM Vibrating Screens/Conveyors are available in a variety of configurations and sized to fit any application.
Pan sizes range from 12"- 72" wide and lengths up to 150 feet. What size and option package works best for your application? Get fast answers now.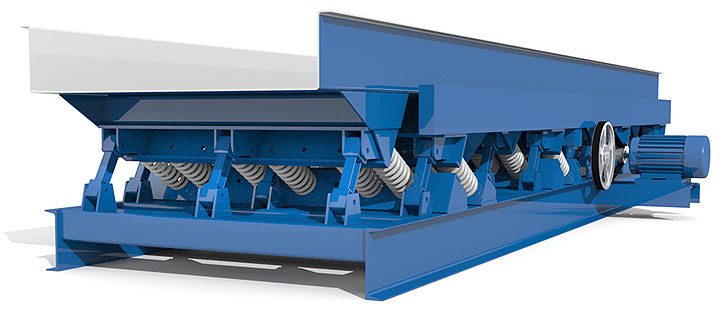 GET INFO AND APPLICATION ANSWERS
Full Range of Capabilities
WSM VIBRATING CONVEYORS AND SCREENS ARE USED IN A WIDE VARIETY OF APPLICATIONS, FROM SIMPLE TRANSFER CONVEYORS, TO HIGH CAPACITY SCREENING OF PARTICLEBOARD FURNISH, TO SEVERE DUTY CHIPPER INFEED UNITS.
We offer a complete line of conveyor configurations and options to handle all these special requirements.
Versatile & Proven Performance
THESE CONVEYORS ARE VERSATILE AND PROVEN PERFORMERS.
Energy-efficient, natural frequency design utilizes power springs to reduce horsepower requirements and operating costs. Heavy-duty construction for reliable, long operating life with less downtime and horsepower.  
WSM offers a variety of screen styles to equip your Vibrating Screen to handle your production requirements.
VIBRATING CONVEYORS
Pan widths from 12″ to 72″ and lengths from 10′ to 150′. Customized sizes are available to handle specific applications.
Available in a wide range of mesh sizes and wire diameters. Ideal for screening smaller particles. Add an optional ball deck to enhance material agitation and screen cleaning.
Perforated plate screens are typically used in larger separation point applications. They are stronger and typically longer wearing than mesh screens.
Available in a wide range of mesh sizes and wire diameters. Ideal for screening smaller particles. Add an optional ball deck to enhance material agitation and screen cleaning.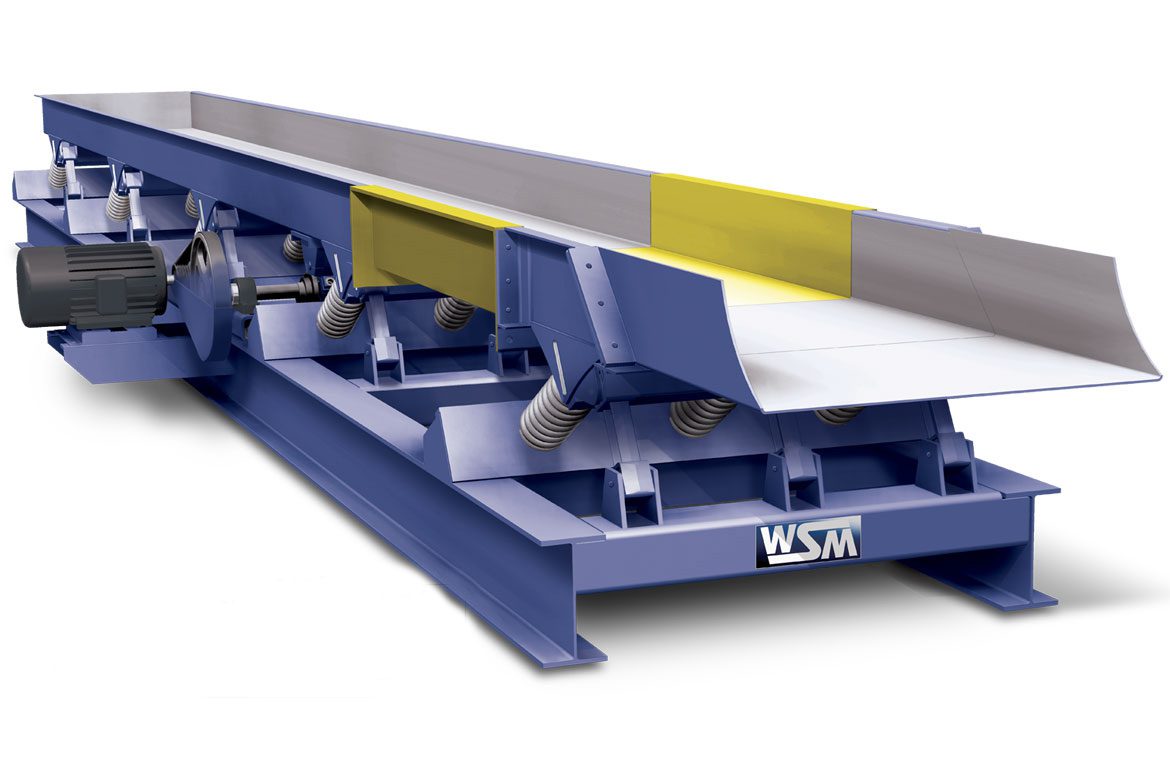 Pans are formed from ¼" thick steel plate as standard. Heavier material available for severe duty use
Flange along top edge for added structural strength
Optional fiberglass section with metal detection to help prevent damage downstream from tramp metal
Heavy-duty drive assemblies constructed using the highest quality components & mounted to a machine mounted drive base (guard not shown for demonstration purposes)
Eccentric drive shaft is precision machined from alloy steel
Rocker arms (steel coil spring units only) are quiet and durable with rubber bushing inserts
Spring mounts on coil spring units are from thick steel plates with access openings for easy spring removal. Fiberglass spring mounts are fabricated from steel angle and are readily accessible. 
Optional steel coil springs for severe duty conveyors. Coil springs are heat-treated for long wear life. Optional fiberglass springs (not shown) are made of uni-directional fiberglass for lighter duty applications.
Heavy structural frame members provide structurally sound, rugged base support 
Production value
WSM offers a full line of severe duty, natural frequency Vibrating Conveyors and Screens for multiple applications, from simple transfer conveyors, to high capacity screening, to material distribution, and grinder infeed conveyors.
Hover over circles to see features. 
Available in counter balanced design (not shown) and unbalanced design, design selection depends on material to be conveyed, installation location, & availability foundations among other criteria. 

Optional Screen Section (not shown) for material size classification 

Optional top covers for dust containment, when necessary

Optional removable transition when feeding into grinders, chippers, etc
Discover the WSM Difference
With the ability to move high volumes of material using just minimal horsepower, our Vibrating Screens & Conveyors to orientate and level material as it conveys, reducing any surges to down screen equipment.
Discover More
To discover the full range of options that come with our WSM Vibrating Screens & Conveyors, simply complete the contact form to receive your Free Product PDF. Questions? A member of our support staff will contact you.
GET A FREE PDF & YOUR QUESTIONS ANSWERED