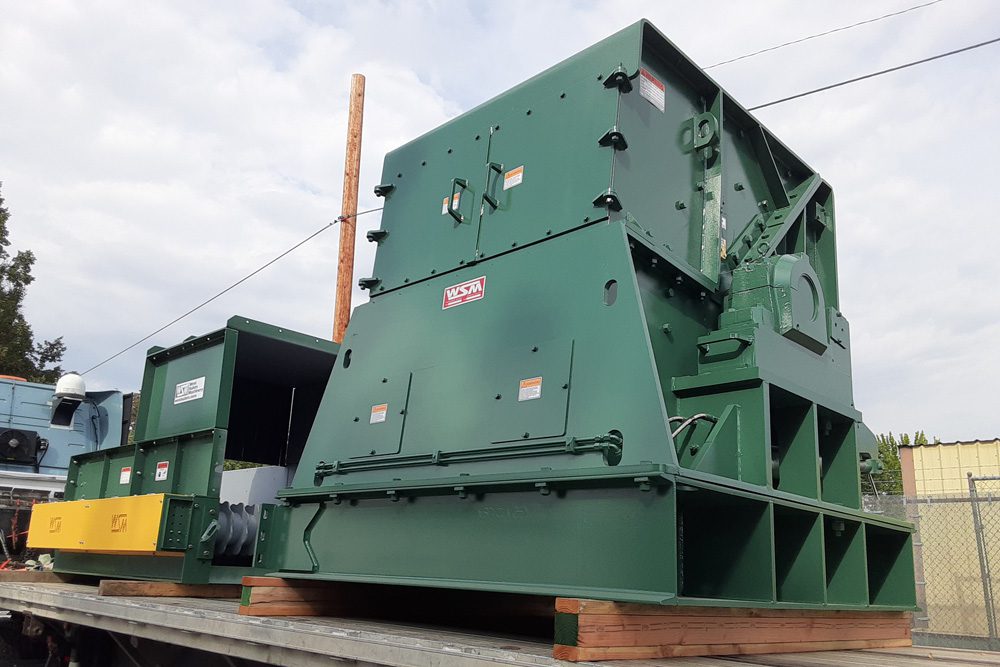 This load is heading to a sawmill in the SE. The 4848 Vertical Hog has 14 "limited swing" hammers, each weighing 115 lbs and includes pivoting top case. Operating with two belt driven 250 HP customer supplied motors to hog SYP bark and wood waste to an approx. 3" product. We supplied a 48" wide Disc Screen with 8 rotor assemblies for an approx. 2" minus separation, start-up assistance, and maintenance training.
---
This 4860 Shredder is going to a mill in the Mid-Atlantic region of the US. The Shredder will use a 600 HP motor to reduce hardwood chips to an approx. ½" – 5/8" end product. We also supplied an infeed chute, 63' belt infeed conveyor, 36-9 Disc Screen for sawdust removal, engineering, project management, and start-up assistance.
---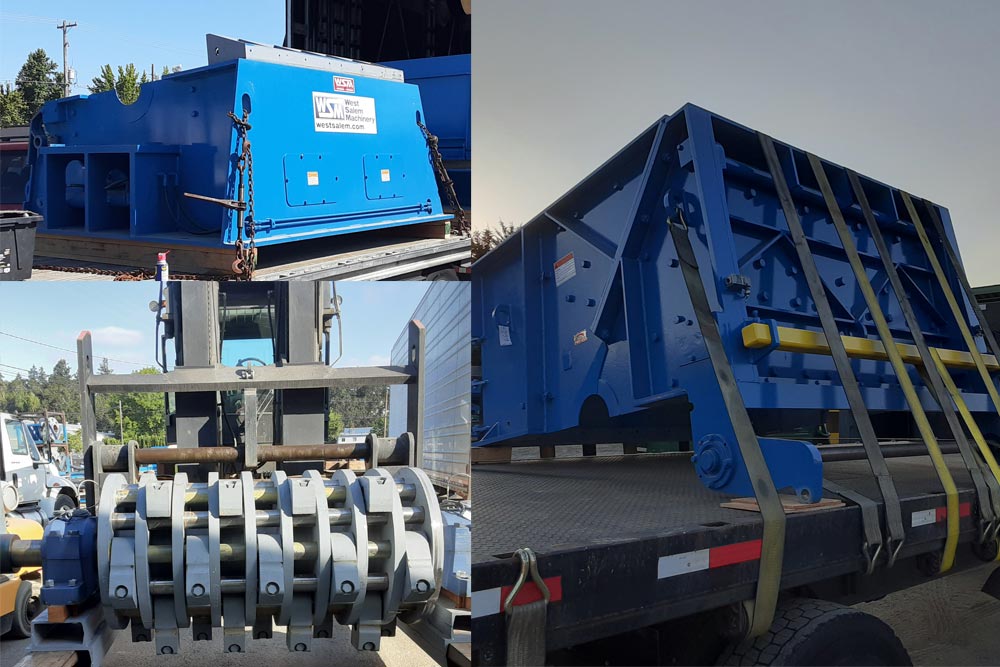 Load going to be packaged for overseas shipment then heading to a waste management company in England. The 5472 Vertical Grinder includes 27 – 127 lb. hammers with replaceable tips and pivoting top case. The Grinder will reduce pre-shredded wood to an approx. 3" minus for biomass power. We supplied an infeed chute with ballistics attachment and 50' long belt discharge conveyor.
---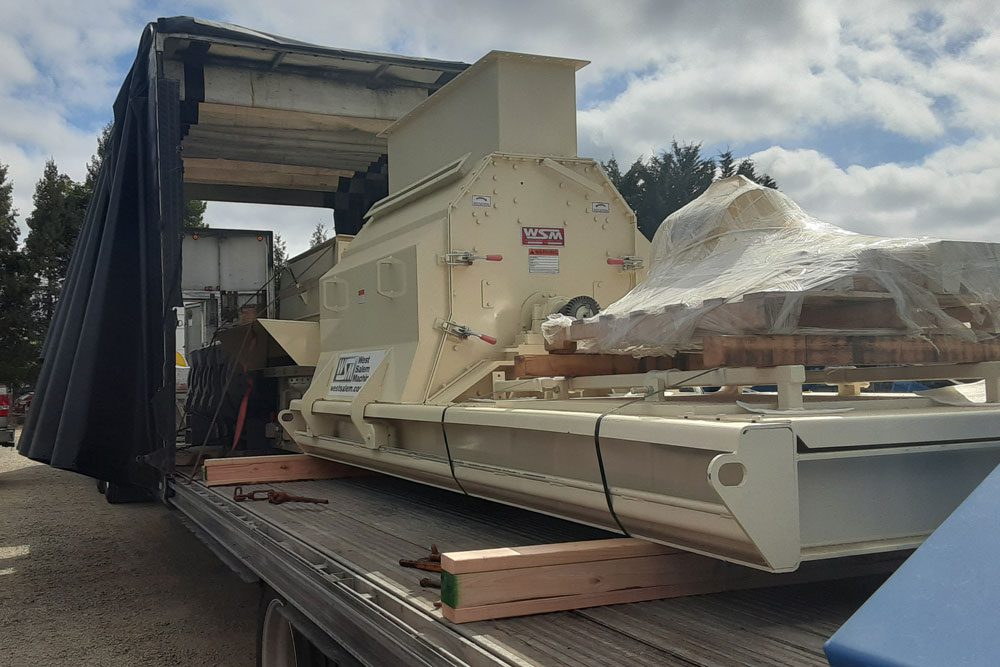 Ready to go for packaging for overseas shipment with final destination being a biomass and animal bedding producer in the United Kingdom. This 4460 Hammermill will use a 400 – 450 KW customer supplied motor to mill 15+ MTPH of pre-shredded dry softwood to an appropriate 8 mm minus. We also supplied an air density separator with infeed chute.
---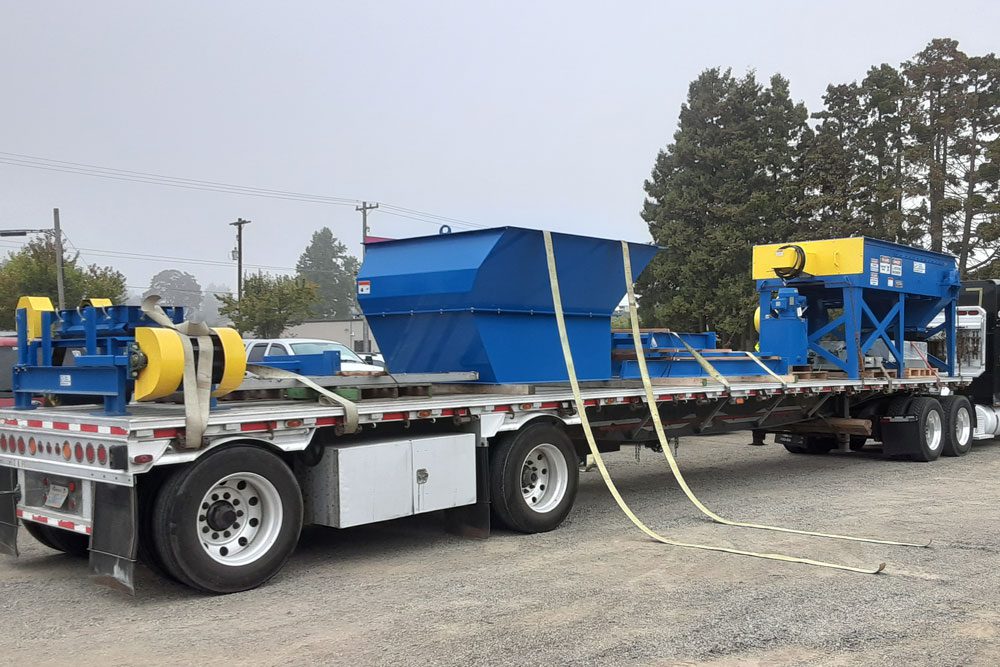 Our 1662 Low RPM Hopper Fed Grinder on it's way to a nursery in Hawaii. This unit will use a 60 HP motor to recycle pallets and trim material. We also supplied a 38' long discharge conveyor with magnetic head pulley and overhead magnet.
---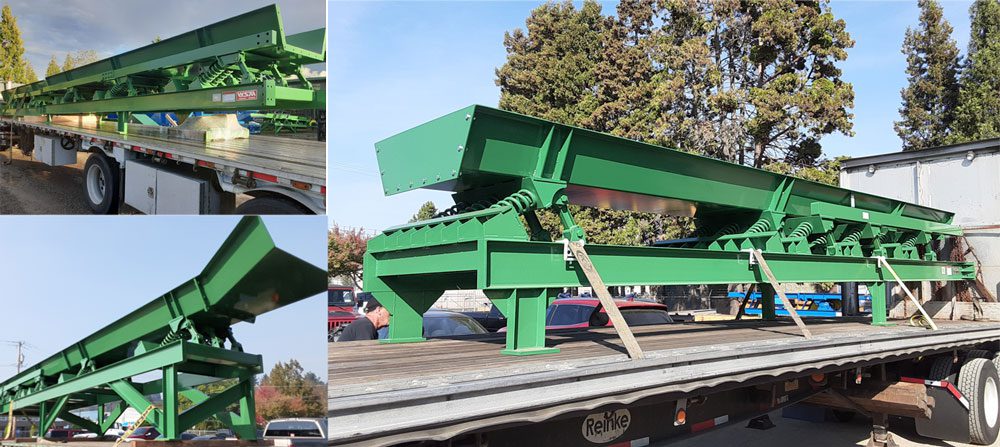 This is some of multiple shipments to a sawmill in the Pacific NW. This project included seven severe-duty Vibrating Screens with coil springs and counter-balanced design. The project included over 400 ft of total conveyor with widths ranging from 30" to 48" and individual unit lengths from 26' to 88' long.
Get Application Answers
Blog General Application Answers Form - No PDF
"*" indicates required fields