This load is going to a recycling facility in Canada that converts cardboard, plastics, construction and demolition wood, and yard waste into clean, green energy for electric vehicles. The 5472 Vertical Grinder with 600 HP motor and Infeed Chute with Ballistics Attachment will reduce pre-shredded waste to an approx. 1" minus. Our 72" wide, 16 rotor waterfall Disc Screen will produce a 1" minus finished particle size.
---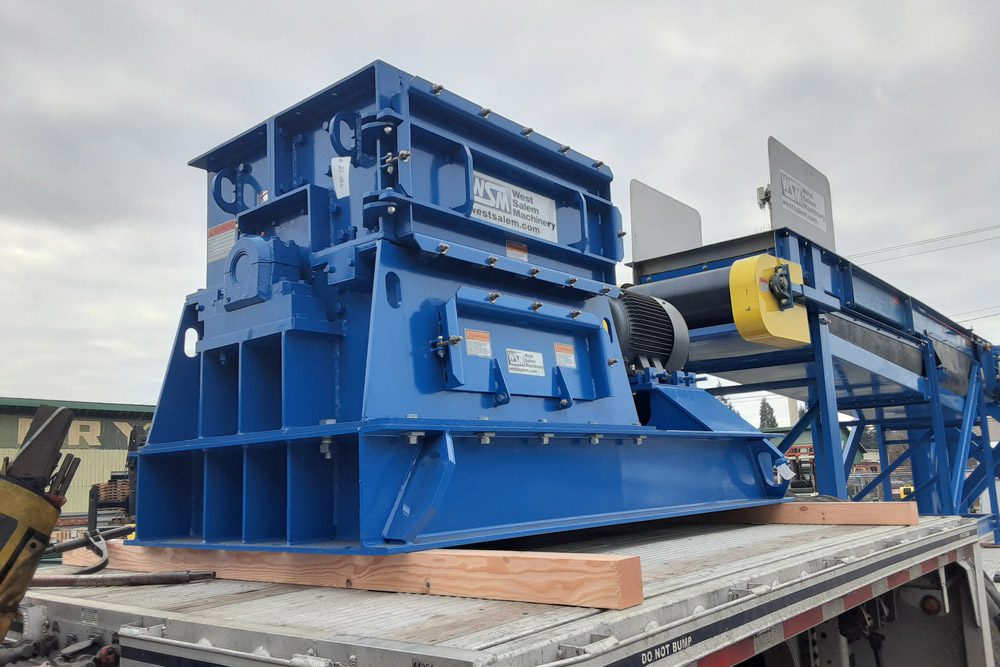 WSM's 2432 Vertical Grinder heading to a commercial food waste recycling facility. The food waste is converted for anaerobic digestion. With systems at multiple locations, this specialized grinding system includes stainless and other special components to increase wear life in the abrasive, corrosive application.
---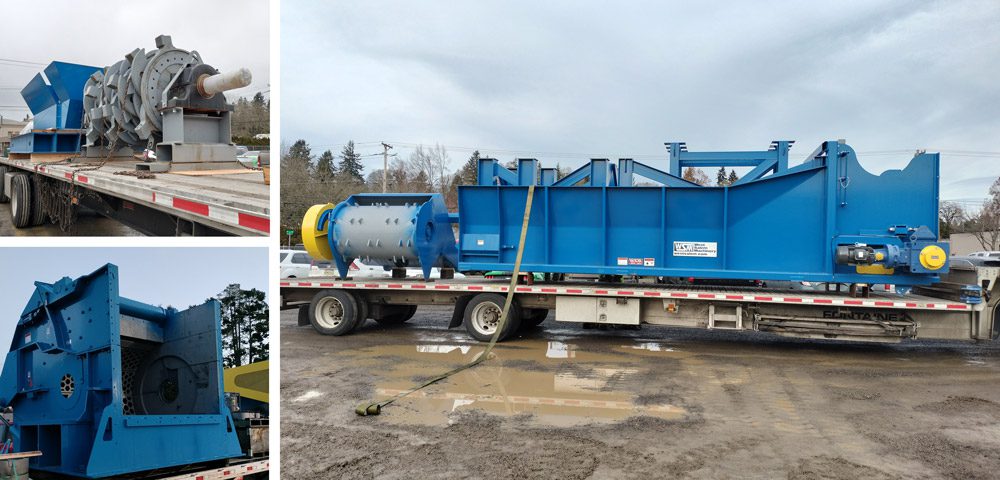 Our massive 6070 Titan Horizontal Grinding system ready to go to an organics recycling company in the SE. The system will process green waste, urban wood, and land clearing debris. WSM supplied the Grinder (with 27 hammers @ 150 lbs. each), 44" diameter feedroll, 25' long by 70' wide Chain Infeed Conveyor, Belt Discharge Conveyor, support structure, motor starter/control package, and start-up assistance.
---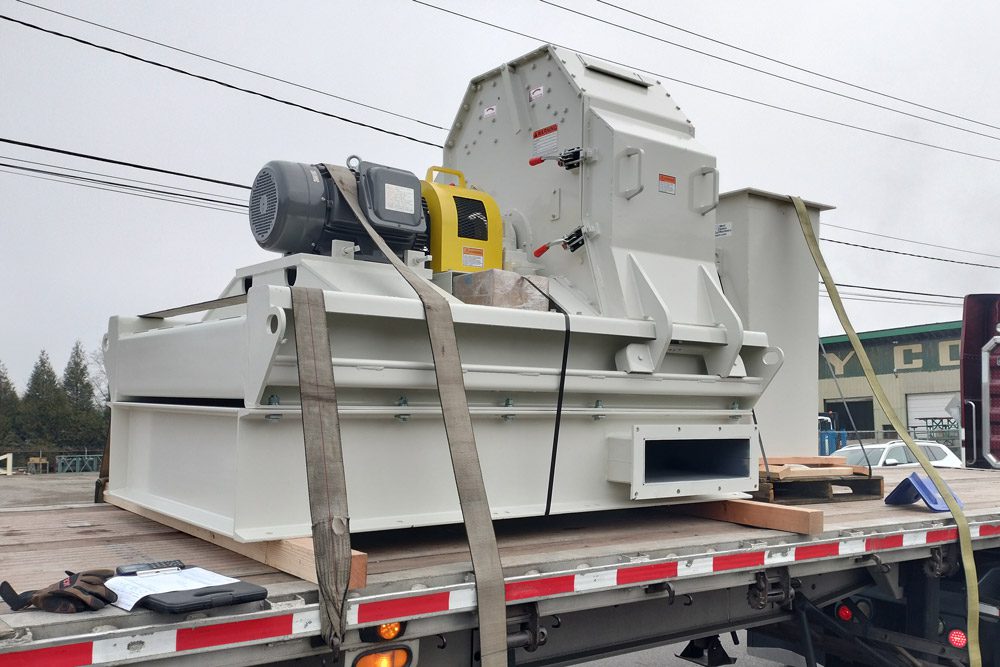 Model 4420 Hammermill with 50 HP, 1800 rpm motor, loaded for a mill in the Pacific Northwest to grind veneer trim from a saw line. The Hammermill has dual sliding doors for easy screen and rotor access. Our Hammermills are available with throat widths from 20" to 60". The rugged mills process ag fiber, animal feed, bark, citrus peel, pre-hogged wood, sawdust/shavings, and wood chips.
---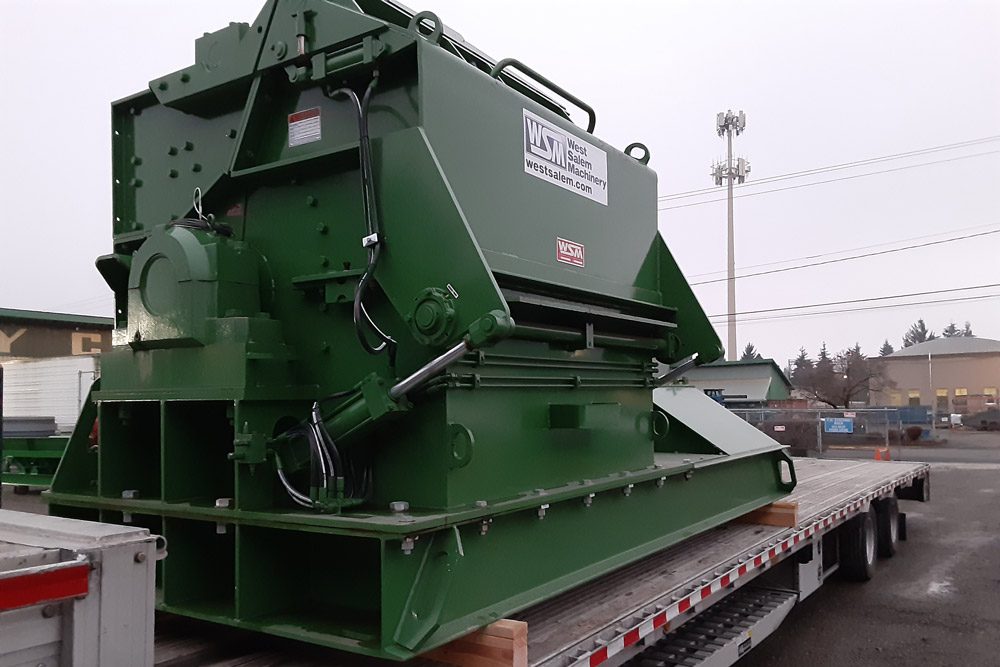 This 4864 Titan Horizontal Grinder is going to a construction/demolition wood and urban wood recycling facility in the Southeast. The unit has our unique limited swing hammers to help minimize damage from large uncrushables and has a 500 HP motor. We supplied our powered infeed mechanism, 25' long by 64" wide Chain Conveyor, machine supports, motor starter and control panels, plus installation and start up assistance.
---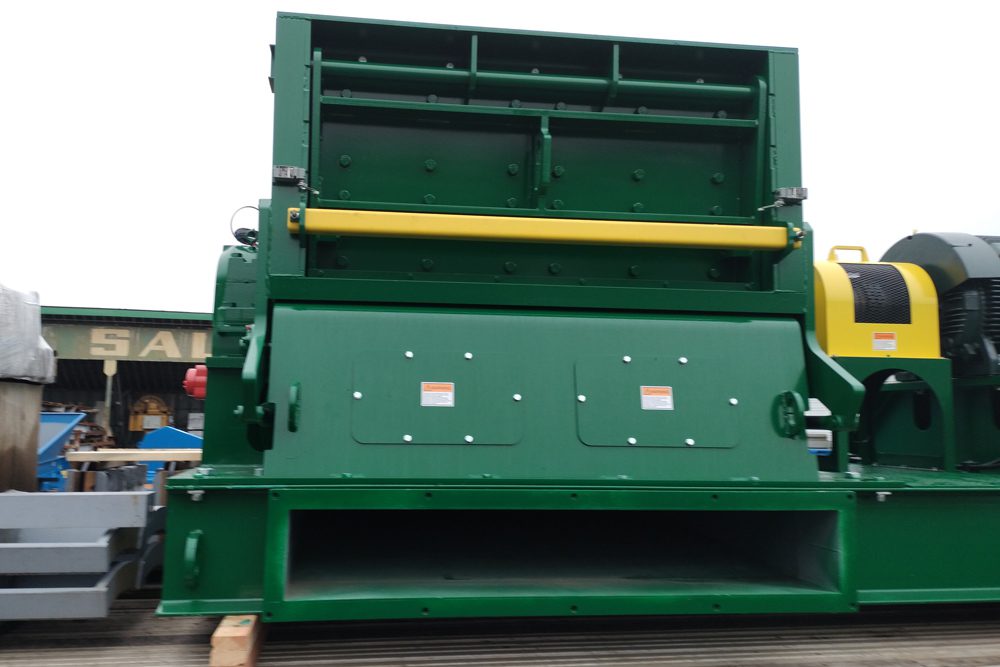 Our 4064 Vertical Grinder heading to a mill in the Southeast to grind SYP trim and scrap boards to a ¾" minus. This Grinder has 24 hammers @ 115 lbs each with reversible/replaceable tips and our hydraulic top case that allows infeed chutework to remain in place when accessing the rotor, screens, and other internal components. The unit operates with a 400 HP, 1200 rpm motor.
Get Application Answers
Blog General Application Answers Form - No PDF
"*" indicates required fields