One of multiple loads going to a large furniture manufacturing plant in Vietnam to process plywood, OSB panel scrap/trim, skeletons, cut-outs, and scrap wood. The customized system includes a 3466 Horizontal Grinder with pivoting top case for easy maintenance access, powered feed roll, severe duty coil spring counterbalanced Infeed Conveyor/Vibrating Feeder with hopper extension, belt discharge conveyor with overhead self-cleaning magnet, all machinery supports, and engineering services to assist in system layout and integration.
---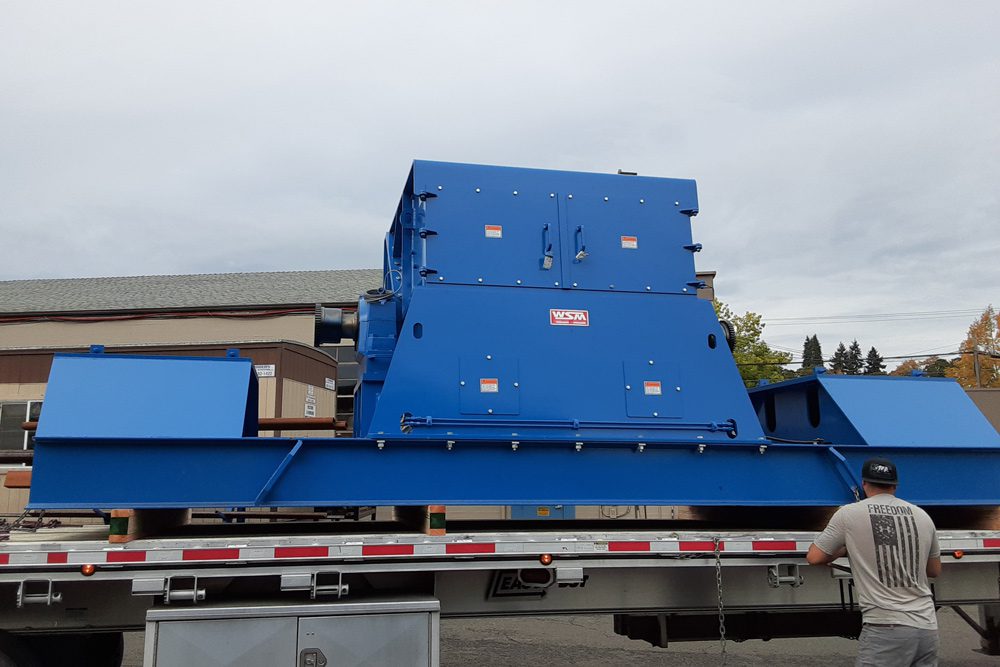 This shipment is heading to a large mulch producer in the northeast region of the US. The system consists of 4864 Vertical Grinder with pivoting top case for simpler maintenance, drive base, dual 400 HP motors, infeed chute, machinery supports with maintenance access platforms, 50' long Chain Metering Bin, plus engineering and project management services.
---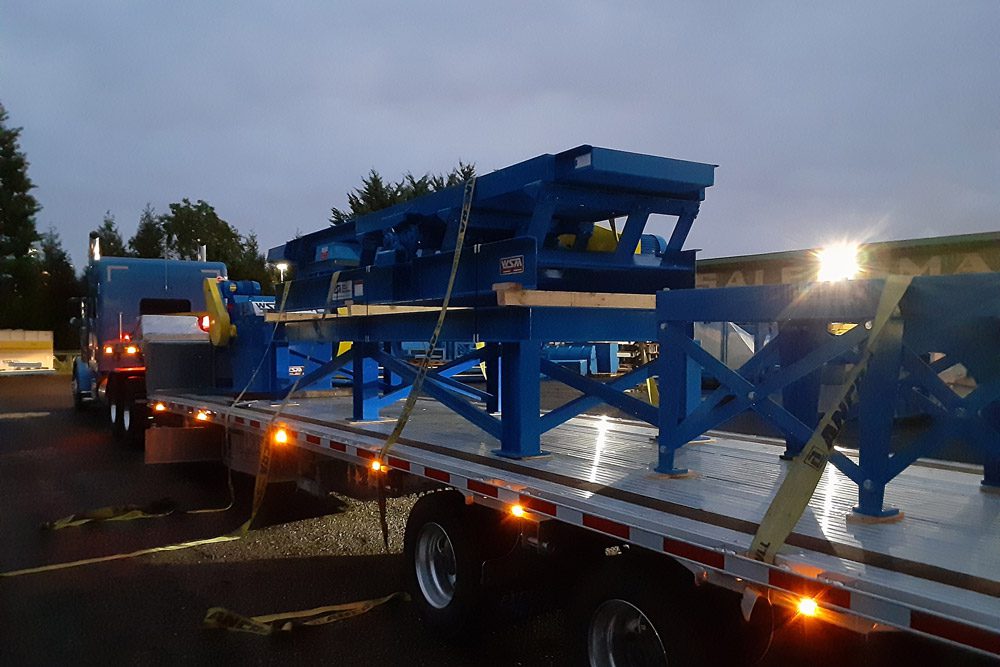 Low RPM Horizontal Grinder going to a lumber mill in western US will operate with a 75 HP motor to reduce slabs to an approx. 2" minus. The Grinder features a 16" diameter rotor with 4 way indexable/replaceable cutter teeth. The Grinder is fed with a 20' long Vibrating Conveyor with a fiberglass section and metal detection, support structure and motor control panel.
---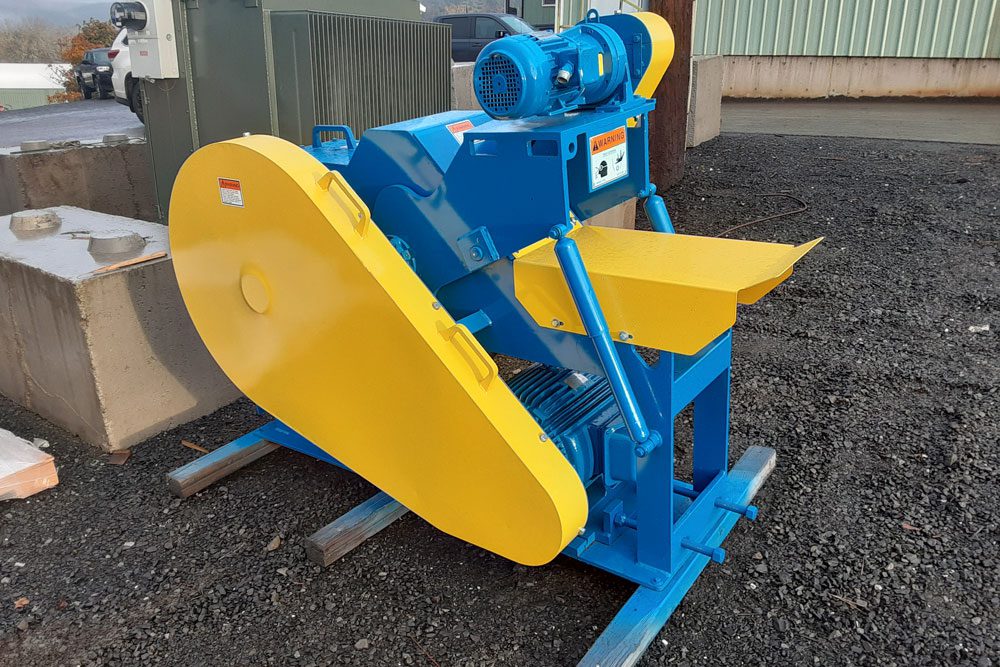 WSM's 1614 High Torque Grinder ready to go to a lumber mill in the pacific northwest to grind scraps and trim. The unit operates with a 30 HP motor and has a 16" x 14" rotor, powered feed roll, 20' long fiberglass spring unbalanced Vibrating Infeed Conveyor, and motor control panel
---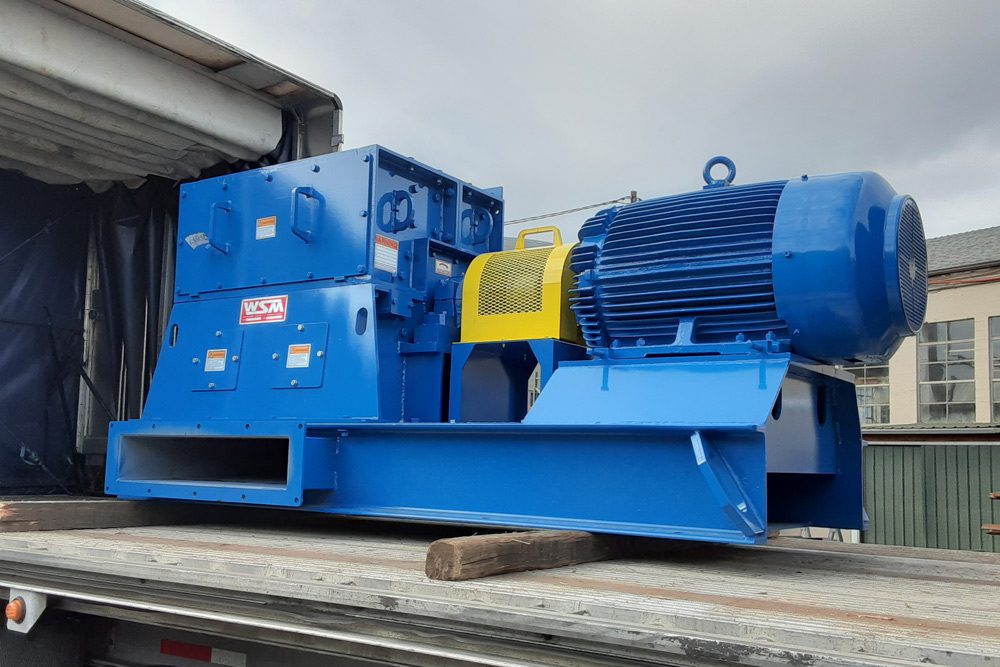 Load heading to a large producer of lumber and other building materials in the southeastern region of the US to process LVL trim ends and veneer scrap. The system is a replacement for a unit originally sold in 1993 and includes WSM's 2432 Horizontal Grinder, powered feedroll, drive base, and 150 HP motor.
---
Get Application Answers
Blog General Application Answers Form - No PDF
"*" indicates required fields